V's Italiano Ristorante has been pleasing its guests by combining uncompromised service in a beautiful, relaxed environment since 1963.

V's President, Greg Hunsucker was featured again as the Kansas City Originals Chef of the Month for August, 2012. You can read the article below.
BIO:
Vita and Jay Totta opened V's Italiano Ristorante in 1963. That year Beatlemania was in full swing. Julia Child's show The French Chef premiered. While The Beatles disbanded years ago and Julia Child moved on to that great kitchen in the sky, V's still serves its beloved Italian cuisine in Independence, Missouri. Next year the family-owned and -operated restaurant approaches its 50th anniversary.
Mama Vita, not ready to fully retire, still drops by the restaurant daily to check on family, employees, and customers. Vita's son-in-law and V's principal owner Greg Hunsucker, his wife Mary (Vita's daughter), their two sons, Mary's sisters Vita and Toni, and other family uphold the culinary traditions of this classic southern Italian cuisine even as the restaurant adapts to changing customer tastes.
Greg started working at the restaurant in 1972 when he was a young teen. "I wanted to be an architect, lawyer, or psychiatrist," he says. His days at V's grew on him. "I fell in love with the business."
After high school and during his college years, Greg continued to work at V's. He accepted an offer to begin buying into the business. Eventually he fell in love with Mary, the daughter of Vita, and there was no turning back. As the primary owner now, Greg continues to dedicate himself to the family business.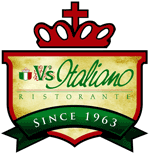 PHILOSOPHY:
One distinguishing aspect of V's is the longevity of its staff. A bartender and members of the wait staff have worked there for over a dozen years; the kitchen manager has put in two decades of service; and a dishwasher has worked at V's for thirty years.
"We're an easy company to work for," says Greg of the restaurant's appeal as an employer. "My philosophy is to hire people with talent, train them, and get out of their way. Let them do their job. Over time, they have become an extension of our family."
That sense of community extends from the staff to customers. V's draws third- and fourth-generation customers on a regular basis. "We have customers where their great-grandfather originally brought them in," says Greg. "My son Greg's fiance, I've known her since she was three-years-old."
V's draws customers not only from the neighborhoods of Independence, but also from Lee's Summit, Blue Springs, and Overland Park. Multiple generations of diners have migrated in residence over the years, but keep coming back for plates of pasta, red sauce, and more.
The core of the menu – traditional dishes such as veal Parmigiana, mostaccioli, and baked lasagna – has remained the same since V's doors opened. As customer tastes have changed, the menu has evolved to include dishes like osso bucco, blackened salmon, haddock, gluten-free pizza and pasta, and entrees for vegetarians.
V's President, Greg Hunsucker was featured as the Kansas City Originals Chef of the Month for February, 2009. You can read the article below.
BIO:
Greg Hunsucker, president of V's Italiano Ristorante, began working there as a dishwasher in his early teens. When he decided to make the restaurant business his career he told his father, ?I get to play when other people work.'" Greg attended a local vocational school's food service program, worked his way up through the V's kitchen to become the kitchen manager, and was general manager by age 20. Today, he owns V's with his wife and daughter of founders, Jay and Vita Totta, two sisters-in-law, and a brother-in-law. Two of Greg's sons work at V's and his mother-in-law, Vita, still visits frequently.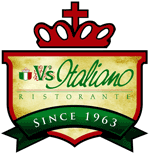 PHILOSOPHY:
Since it opened in 1963, V's has primarily served Southern Italian food, with many dishes that feature red sauce. About 70 percent of the menu uses family recipes passed down through four generations, while the remaining dishes change to reflect current dining and dietary trends. ?We serve good food with great service and a clean, friendly environment," says Greg about the family-operated restaurant. ?And we host a dinner party in our home every day."